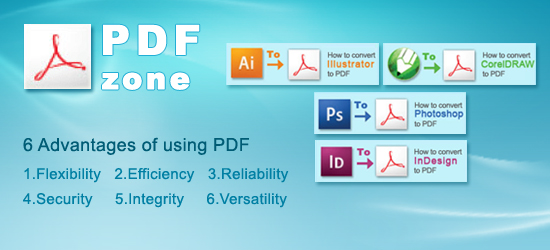 1.Flexibility --
PDFs help overcome incompatibility and font type conversion problems from different programs. PDF supports all kinds of font types, images and formatting data, saving troubles from printing errors due to missing information.
2.Effectiveness --
Files become smaller in size when converted to PDFs which makes them much easier to be transferred online. (e.g. AI poster file is approximately 10MB)

3.Reliability --
Finished products is 100% the same as the PDF file provided. The risk of data loss via conversion from other file formats can be solved by using PDFs.

4.Safety --
PDFs cannot be altered easily, contents are protected.

5.Integrity --
PDF files keep all the format, color, font and images of the orginal files, thus proofing before printing is more convenient.

6.Versatility--
Most files, such as Office software and different kinds of designing software files, can be converted to PDF. PDFs are the main file format for printing.