Home page > Product & Price list > Packaging > Drink Carrier

350gsm 1 Side Coated Art Card + 1 Side Matt Lamination
4C + 0C (495mm x 327mm)
Qty
RM
100
450.00
200
485.00
300
515.00
400
575.00
500
630.00
600
687.00
700
744.00
800
801.10
900
858.10
1000
915.00
1100
981.60
1200
1048.10
1300
1114.60
1400
1181.10
1500
1247.60
1600
1314.00
1700
1380.50
1800
1447.00
1900
1513.50
2000
1580.00
Head office production cycle: 4 working days
Branch production cycle: 5 working days
Product Specs:
Material: 350gsm 1 Side Coated Art Card
Printing: Full Colour Printing (4C x 0C)
Finishing: Single sided Matt Lamination
Size: 495mm x 327mm (Open Size)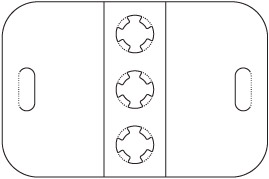 Comes with a convenient
carrying handle

Customer can carry their drinks like a bag.



Holds 3 cups of
hot or cold drinks at a time

This carrier can maximize your profits when each
customer can easily take away up to 6 cups of
drink with both hands.

Full colours printing

The ideal low-cost solution for branding.


Flexible Capacity

This economical feature accommodates cups of
varying sizes ranging.*

Folds together in a few seconds

Turns into a convenient 3-cup, as soon as it's folded upward,
securing drink cups in place. Able to fold flat for easy storage as well.

*If you are still a little uncertain about this cup carrier, feel free to request the sample so you can try them in your shop.